Group
About us
---
GPO Platform is a film production company founded in 2016 by graduates of the Documentary Film Department at Film and TV School of Academy of Performing Arts in Prague (FAMU). The company focuses on production of original documentary movies and short films, enables creation and provides support to authors of film debuts, experimental films and video art.
We use our vast experience with film direction to help film makers with their production of audiovisual art. We consider our company a collective solution, a platform for directors, painters, photographers and other artists, who feel close connection to movie industry. GPO (Group Production Office) builds on the legacy of British documentarists from the 1930s, who were able to establish a similar community. We own equipment for the entire process of shooting and postproduction of audiovisual artwork. On principal, we support projects created to satisfy a strong urge of the author to express him or herself. Therefore, we do not intend to get involved in the production of advertisement.
Production
Distribution
Kindling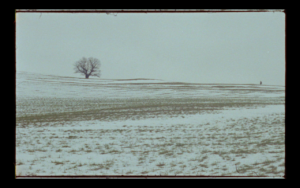 KINDLING is a collection of four short experimental film poems, which elaborate on the bond between inner and outer scenery. The individual movies carry their authors' signatures; however, they are being produced in creative collaboration, which instils unifying characteristics upon them. The goal of the authors is to study the limits and permeability of the film (visual) and musical (auditory) composition. Rhythm and movement are more important to individual authors than the narration itself. The storyline, if present at all, gleams and flashes through to promote the observers' associations and employ their imagionation rather than tell a story in a linear fashion. Authors' aim is to introduce KINDLING in two ways. The first one is a classical short film setup and the second one will be a concert format, with live musical accompaniment.
Distribution
Epic Complex
Road movie following 20 colossal paintings of Alfons Mucha's Slav Epic on their way from the Czech Republic to Japan and into the depth of our own history.
Supported by / City of Prague
Postproduction
The Fall of Consent Communism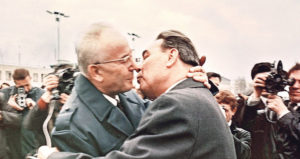 The Fall of Consent Communism focuses on the rise of a new system under the communist rule after 1968 and the circumstances of its fall in the late 1980s. It examines the issue through testimonies of the representatives of normalization political elites. The movie exposes their self-deception, lust for power, mutual disagreements, disputes and behind-the-scene activities which resulted in the events of November 1989.
It may seem that the fall of the communist regime has been discussed in great detail many times over. However, that is a rather biased perspective. The prevailing public opinion is that the regime, established after the invasion of soviet armies in 1968, fell apart owing to changes in the USSR after Mikhail Gorbachev rose to power. There has been little mention of social contract and agreement (or rather coercion) between party elites and the public, which complemented each other, and which served to provide a certain validity to the peace solution generally preferred to violence. Jan Rousek's motion picture will be shot as a study of the mechanisms behind historical events and their orchestrators as they truly unraveled. What does great power look like under scrutiny through the optics of the directly involved parties?
Postproduction
Last Days of Czech mankind in Europe?
Film essay reflecting on the 30-year long development of democracy in one Central European country through parliamentary and presidential election in time of migration crisis and Brexit.
Supported by / The Czech Film Fund
Development
Is It Worth It?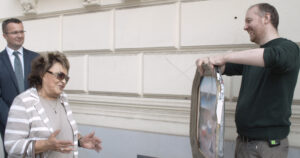 The topic of Jan Strejcovsky's debut is the exploration of the origin of both artistic and market value of individual works of art. Documentary a(u)ction essay Is It Worth It? will be a mosaic of stories, situations and stylized scenes from the world of art market. It is one of the most obscure investment areas. Moreover, the world of finance intertwines with the world of artistic creativity, one of the areas of human endeavor which is among the most difficult to grasp. The art market as a space, where authenticity of personal expression meets the power of consumerism.
Development
Who is missing today?
A documentary, which speaks about people and the world using the metaphor of the destiny of wild birds. It is like a scene from an old Chinese porcelain. Long-legged, long-necked bird lands in a tree. It turns around with slow, feline movements and strides down the slender branch, white-bellied heron (Ardea Insignis), predator living on the southern slopes of the Himalayas. With its impressive two-meter wing span it is the second largest heron in the world. The beauty, rarity and fragility of the Chinese porcelain seems to epitomize their destiny. There are only around 50 of them left in the world. The dramatic lives of these magnificent birds will be depicted in a poetic rather than informative manner as the documentary will follow routine work of an ornithologist, Lubomir Peske. Destinies of the herons and people are intertwined in the ever-smaller world, with one mirroring the other. The movie will watch the efforts of scientists, which do not always end in triumph. Through the daily drudge we are let in on the live relationship with nature in which modern technology plays a crucial role. This particular topic invites the audience to explore the relationship triangle: human-nature-technology. The birds captured on film are critically endangered. And so Lubos's everyday question: who is missing today? – or as he puts it, in his not perfect French: Qui manque aujourd'hui? – often sadly traverses the destiny of an individual. Among other factors, also thanks to the modern technologies we find out that there are very concrete stories behind the extinction of an entire species.
Supported by / The Czech Film Fund
Development
Housing Expo(sed)
The cost of living in Prague rose twice faster than the incomes in 2018 while developers' revenues doubled. The global housing crisis spread in Europe and began to affect the middle class. The author is suddenly forced to move out herself. Leaving her home, she sets off on a journey to seek others in a similar situation paying a high price for the shift in understanding of the meaning of housing. Audiovisual observational triptych searches for the meaning of "home" and its influence on our everyday lives from three various perspectives. We visit a Spanish "mama hotel", follow an East European developer in his endeavors and round up in Berlin tailing retirees demanding an expropriation.
Supported by / The Czech Film Fund
Others
Factor of Six
The short film with cinematic shoots capture the "occupants" of an unknown apartment who silently perform activities bordering on purposeless pastimes and melancholy, even surreal rituals.
Others
Video day / Exhibition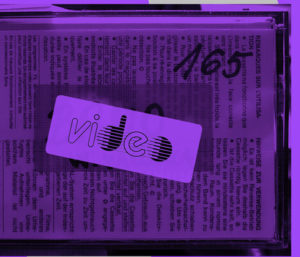 The director has resurged the legendary exhibition of video artists The Day of the Video 1989/2018 as a part of the movie about Czech video art.
Collaboration
Jan
Gogola ml.
Director, screenwriter, dramaturge. Often collaborates with GPO as head dramaturge or dramaturgy consultant and coauthor.
Martin
Řezníček
Documentarist, cinematographer, lecturer at FAMU. Partners as cinematographer and director.
Adéla
Komrzý
Director. Cooperates as director, currently is working with Tomas Bojar and preparing a film with the working title Entrance exams, focusing on what happens behind the scenes at entrance exams for the Academy of Fine Arts in Prague.
Květa
Přibylová
Cooperates as a director, sometimes cinematographer and has also taken part in the organizational aspect of the experimental project Krastí. Currently is working on her new film with GPO.
Apolena
Rychlíková
Director, journalist. Currently developing her new film Housing Expo(sed).
Jan
Rousek
Historician and documentarist. In collaboration with GPO, he is finishing his new film The Fall of Consent Communism.
Helena
Všetečková
Director, dramaturge. Dedicates her time to dramaturgic collaboration and is currently preparing a film about Egon Bondy.
Jan
Šípek
Documentarist, cinematographer, lecturer at FAMU. Collaborates on a number of projects as a cinematographer and co-director.
Johana
Střížková
Intermedia artist. Together with GPO coproduces her film Factor of Six for the Jindřich Chalupecky prize, for which she was nominated in 2016. Currently works on her new concept of an art installation for the Czech Center in Berlin.
Marek
Brožek
Cinematographer, scenographer, puppeteer. Collaborates as cinematographer, sometimes takes part in postproduction. Also focuses on the technical side of scenes that require above-standard solutions.
Jan
Březina
Director, cinematographer. Collaborates on a range of projects as a cinematographer.
Jakub
Jurásek
Sound designer, conceptual artist. Collaborates on shooting and sounf postproduction on a number of projects.